You are a straight freak, sir. Buried in this roundup article is the following:
Quotable:

Freshman running back Javon Ringer scored his first touchdown since the Hawaii game. "The little crapper did pretty good too, didn't he?" coach John L. Smith said about Ringer, who rushed for 109 yards on 11 carries.
I am going to miss JLS when he freaks out and bites off the head of a sideline reporter after another special teams mishap.
The same article contains a ginormous dick move, as well:
The NFL rumors [re: Weis to NFL] have Irish faithful in an uproar. One fan-friendly Web site wrote that Schefter was trying to "create rumors about Weis" because he is a Michigan grad.
(I think there's a 99% chance this is NDNation because that seems like exactly the sort of paranoid retardery that is their speciality.)
Why not mention where you got it from? This is totally unverifiable the way it's printed solely because the newspaper doesn't want to publish the URL of a site not run by "
real journalists
" even when they're citing it. Newspapers pull this crap all the time when they reference anything on the Internet. They make a vague assertion about "message boards" or "blogs," specifically reference exactly nothing, and prevent the reader from finding out what's going on for themselves. It's reminiscent of those protesters in college that shout down anyone who disagrees with them because they know they're right and anything coming from someone in the other camp is automatically null and void simply because of its origin.
I'm starting a pool.
Penn State fans: still bitching! It's been two weeks since Michigan beat Penn State. How many
BWI
threads dedicated to complaining about Michigan and/or our unholy pact with the referees do you think have been posted in since, say, midnight? Would you believe... seven? In 12 hours?
I'm serious:
one
two
three
four
five
six
seven
. Amazing.
Can they keep it up through a Michigan bye week and then the Indiana game? Let's find out! We're starting the first annual
Penn State Paranoia Pool.
The rules of the game are as follows: every weekday I will check BWI around noon. I'll scan the title headers for references to A) Big Ten referees and B) OMG Michigan SUX. Included in the latter group will be innocuous seeming posts that are designed to garner snarky responses (and do). The day that I do this and I see no posts for one entire day in either category A or category B will be declared "Extremely Temporary Return To Sanity Day" and the pool will end. The player with the date closest to ETRTSD will be declare the winner. If there is a tie the winner will be the one with the least faith in the Penn State faithful--the one with the date farthest in the future.
The winner of this fabulous contest will get... er. I don't really want to mail anything. Er... will get to officially nickname someone prominent in college football (offer void if nickname is excessively profane and not clever). Post entries in the comments thread below; one entry per household. Void in Puerto Rico, Columbus, and South Bend.
In a return to weird.
I previously discussed the
wondrous ground of weird
that is Facebook. My favorite item was Tyler Ecker's photo:
But
BC&RS
found out that Ecker has topped himself, replacing the above with this: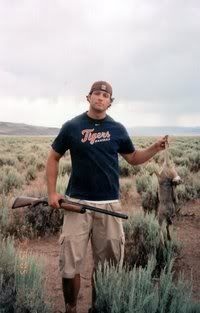 No caption needed, just filename: tylereckerkillsbunnies.jpg
That's goddamn right: our Mormon tight end is a bunny murderer. That's hard. You must examine the rest of the
Facebook goodness
. Angry Michigan Everything Hating God commands it.
Spurrier... mancrush... strong.
No explanation necessary:
I hope Peyton Manning is weeping softly somewhere, wiping his eyes with the paper-mache Heisman Trophy the UT Booster club made him in 1997. (Via the
Cool Chicken
.)
Announcing the Collective of Six.
I have this crazy idea that teams with really good defenses are successful. So I'm announcing the "Collective of Six," an idea that will revolutionize college football thinking. The following teams are all in the top ten in total defense and until they decide to not be good at defense, they are Collective of Six members! Yay!
#2 Virginia Tech: 8-0.
#3 Alabama: 8-0.
#5 Florida: 6-2.
#7 Texas: 8-0 .
#8 Georgia: 7-1.
#9 West Virginia: 6-1.
These teams have incredible success against the rest of college football. At this point Florida's loss to LSU is the only time a non-Collective team has beaten a team in the Collective. Against the rest of college football these teams are 41-1! Easy verdict: if these guys were not good at defense they would not be good at football. Super yay!