Yes. College. We called it "man fun" when we lived in the house with the purple door on Geddes. Despite the thoughts knocking around in your puerile mind, O Reader, man fun was an innocent expression of childhood glee via the medium of unprovoked amateur wrestling, albeit one that often had dire consequences for knees, elbows, and -- in one memorable incident -- walls. Man fun was unpredictable and could be spurred by almost nothing. It was dangerous enough when average-sized people were participating, but this is on another level. Folks, watch out for seismic disturbances in town. Terrance Taylor and Jason Kates are having man fun:
Terrance Taylor's Michigan football initiation came in the middle of a living room last summer.

He was low to the ground and really got worked up.

But this wasn't a secret hazing - it was senior Gabe Watson trying to take down the high school state heavyweight wrestling champ.

Now that Taylor is a sophomore defensive lineman, he's extending the tradition and dishing out the punishment.

"Me and Jason Kates have played a little bit," Taylor said.

Talk about taking on all comers. Taylor is getting his weight down and said he's about 300 and dropping. Kates, a freshman defensive lineman, looks every bit of his listed 325 pounds.

"It just happened," Kates said. "We were hanging out, playing NCAA `07 when I was up here earlier and we were hanging all around, the defensive line. ... It happened a couple times. I'm going to get him before it's all said and done."

So far, Taylor has not lost the wrestling matches, just like his senior year at Muskegon when he was 24-0 on the mat and his team was 14-0 on the football field.
Man fun!
More Avant,
this one from
the Eagles' official site
. Much is adone about the 4.8 40 that dropped Avant to the third round. Wide receivers coach Erik Campbell tells you how he really feels:
"If he was a 4.4 guy, he would have been the first receiver taken in draft," said Michigan receivers coach Erik Campbell in a matter-of-fact tone like he's telling you the sky is blue or Texas is large.
Dang.
David Baas
is also doing well according to
John Clayton's latest
:
With the announcement this past weekend that center Jeremy Newberry is out for the season awaiting microfracture surgery, the 49ers look brilliant with the selection of Baas. He will be the starting guard while Eric Heitmann gets the nod at center. Baas already has become one of the best on the line in San Francisco.
Jed Ortmeyer is not doing well.
He has a blood clot in his lungs ("
pulmonary embolism
" for those who like doctor lingo) and may miss a large chunk of time if he decides to go on blood thinners. I still owe Jed some portion of my soul; good luck.
In the beginning,
there was
college football as rap
. Then
college football as the Simpsons
. Then
college football as South Park
. Now... the
SEC West as fancy paintings
. With book larnin'. I'm shocked that something from the oeuvre of Daniel Moore wasn't the 'Bama pick.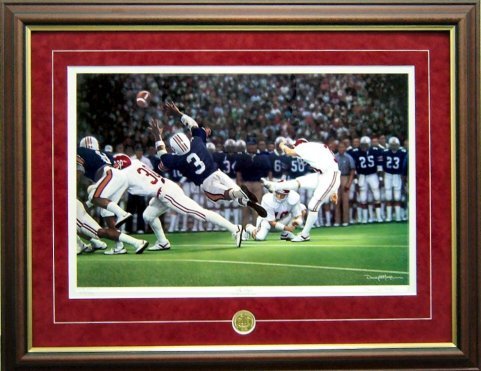 Only $2,700!
Etc.:
IBFC has compiled all upcoming
Michigan appearances on Classic
;
Pickin' on the Big Ten
is BACK, baby;
The MZone
finds
something affiliated with Ohio State
that may be more humiliating than library masturbation;
Maize N Brew
turns the negative recruiting on Notre Dame
(projected to be most effective: "Tom Lemming and Mel Kiper get keys to your rooms. It's part of the deal."); RBUAS
breaks down the offseason weight changes
, includes standard amounts of Gittleson-bashing.